Main features:
✔  Three Ametek motors, for controlling the on/off independently.
✔  Continuous drop-down bagging system, easy and fast loading/unloading.
✔  2 stage filtering, pre-filter is cyclone separator, Filtering more than 95% dust , make fewer dust to enter in vacuum cleaner, prolong the vacuums working time , to protect the filters in vacuum and extend the life time.
✔  Imported  polyester fiber PTFE coated HEPA filter, low pressure loss, high filter efficiency .
T5 Specifications
Model

T502

T502-110V

Voltage

240V 50/60HZ

110V50/60HZ

Power

kw

3.6

2.4

HP

5.1

3.4

Current

Amp

14.4

18

Water lift

mBar

240

200

inch"

100

82

Airflow(max)

cfm

354

285

m³

600

485

Filter type

HEPA filter  "TORAY" polyester

Filter area(cm² )

30000

Filter capacity(H11)

0.3um>99.95%

Dimension

inch(mm)

25.7″x40.5″x57.5″/650X1030X1460

Weight

lbs/kg

182/80
Packing list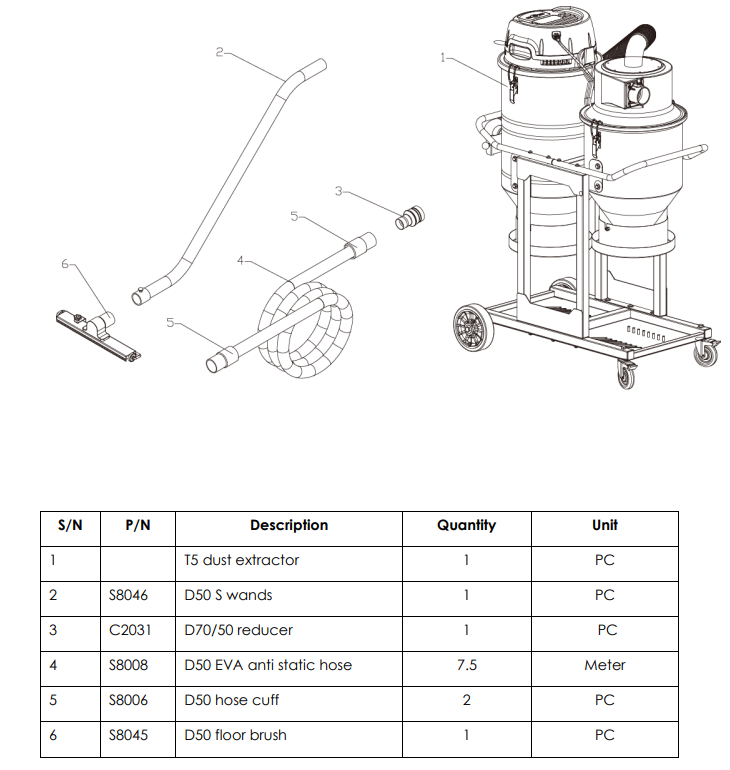 ---
---