Main features:
✔ Buit in small size and stackable, makes it easy to move and storage.
✔ Installed with a prefilter and H13 certified HEAP filter, the operators can be certain the entire room is benefiting from fresh air.
✔ Easy to clean HEPA filter - The HEPA filter is protected by a metal mesh which makes it easy to vacuum it without damaging it.
Models and specifications:
Model
B1000
B1000
Voltage
1 phase,120V 50/60HZ
1 phase,230V 50/60HZ
Power
W
230
230
HP
0.25
0.25
Current
Amp
2.1
1
Aifflow(max)
cfm
2 Speed,300/600
2 Speed,300/600
m³/h
1000
1000
Pre-filter area
Disposable Polyester Media
0.16m2
filter area(H13)
56ft2
3.5m2
Noise level 2 speed
58/65dB(A)
Dimension
inch/(mm)
18.11″X14.17″X18.11″/460X360X460
Weight
lbs/(kg)
42lbs/19kg
Detailes: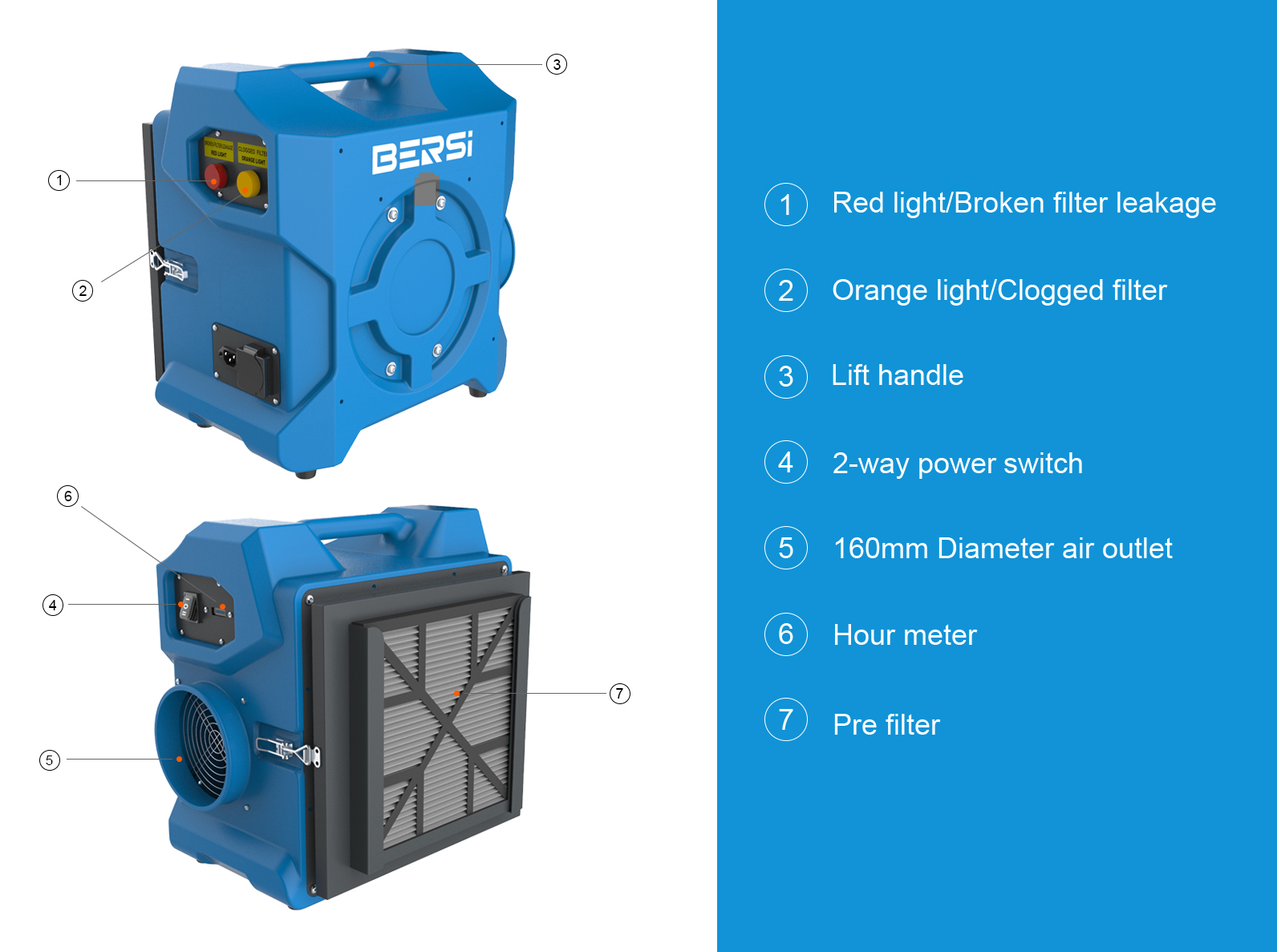 Why you need the air scrubber?
When concrete grinding job is done in some confined buildings, the dust extractor can't completely remove all the dust,it may cause serious silica dust pollution.Therefore, in many of these closed spaces, air scrubber is needed to provide operators with good quality air.This air cleaner is specially designed for the construction industry and guarantees dust-free working. Ideal when renovating floors, for example, or for other work where people are exposed to fine dust particles.
The air scrubber is widely be used  during the restoration process, such as mold, dust, asbestos, lead, chemical fumes where airborne contaminants are present or will be created/disturbed.
B1000 can be used as an air scrubber and negtive air machine both. As an air scrubber, it stands alone in the center of a room with no ducting attached. The air is filtered and recirculated, greatly improving the general air quality. When it used as a negative air machine, it requires ducting, remove contaminated air from a sealed containment area. The filtered air is exhausted outside of the containment area. This creates negative air pressure (a vacuum effect), which helps limit the spread of contaminants to other areas inside the structure.
---
---