TS80 Series Three phase dust extractor
Main features:
✔ Two stage filtration,pre-filter is cycolne separatorseparate more than 95% dust.only a few dust come to the filter, greatly prelong the filter life.
✔ Thanks to the automatic jet pulse filter cleaning, you can keep working without interruptions.
✔ Equipped with Schneider electronic components, have overload,overheating,
short circuit protection, can work 24 hours continuously.
 ✔ Continuous folding bag system, safe handing and dispoal of dust.
models and specifications:
Model

TS80

TS80

TS80

Voltage

380V  50HZ

230V 60HZ

480V 60HZ

Power

KW

7.5

8.6

8.6

HP

10

11.5

11.5

Current

Amp

16.7

32

17.3

Water lift

mBar

320

340

350

inch"

128

136

140

Aifflow(max)

cfm

312

364

364

m³/h

530

620

620

Dimension

inch/(mm)

25.2″X48.4″X63″/640X1230X1600

Weight

lbs/(kg)

440lbs/200kg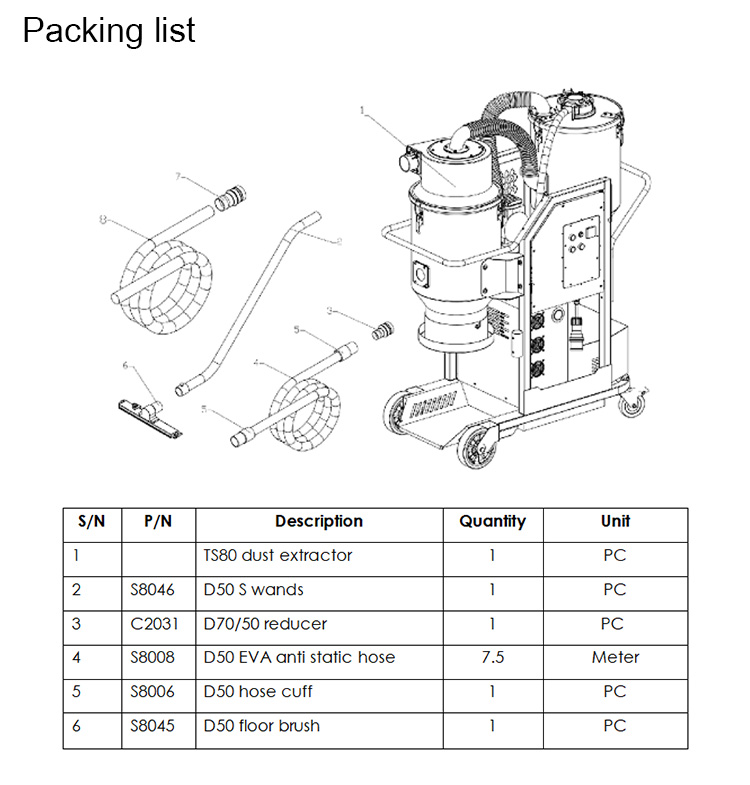 ---
Previous:
T9 Series Three phase dust extractor
---