TS3000 3 Motors Single Phase Hepa 13 Dust Extractor
Short Description:
TS3000 is a 3 motors HEPA concrete dust extractor, it is the most powerful single phase construction vacuum in the market. The 3pcs commercial Ametek motors provide it's customer with 358cfm airflow.The 3 motors can be controlled separatly when different power is needed. Features with the classic jet pulse filter cleaning system,when the operator feels the suction is poor, just purges the pre filter 3-5 seconds within blocking the vacuum inlet.No need to open the machine and take out the filters, avoid the second dust hazard. This dust vacuum clear equipped with a 2-stage filtration system.The conical main filter as the first and three H13 filter as the final.Each HEPA filter is individually tested and certified to have a minimum efficiency of 99.99% @ 0.3 microns. which meets the new silica requirements.The continous drop down folding bag system to guarantee that  is absolutely dust-free disposal. A standard vacuum meter is to indicate the filter is blocking. TS3000 is supplied with a complete tool kit, including D63 hose*10m, D50*7.5 meters hose, wand and floor tools.
Main features:
✔ OSHA compliant H13 HEPA filter tested and certified with EN1822-1 and IEST RP CC001.6.
✔ Unique jet pulse filter cleaning technology ensures efficient and clean filtration.
✔ Weldedframe/platformprovidesturdysupportintoughjobsite.
✔ The 22 meters long plastic bag can be separated to approximately 40 individually sealed bags for fast,safe handling and disposal of dust.
✔ Compact vertical unit is easy to maneuver and transport.
✔ The height of the vacuum can be lowerd to 110cm,use littile space as possile when tranporting.
TS3000 models and specifications:
Model

TS3000

TS3100

Voltage

240V 50/60HZ

120V 50/60HZ

Power

KW

3.6

2.4

HP

5.1

3.4

Current

Amp

14.4

18

Water lift

mBar

240

200

inch"

100

82

Airflow

(max)

cfm

354

285

m³

600

485

Pre-filter

4.5㎡>99.5%@1.0um

Hepa filter(H13)

3.6㎡>99.99%@0.3um

Filter cleaning

Jet pulse filter cleaning

Dimension

inch/(mm)

22″/32.3″x58″/630X840X1470

Weight

lbs/(kg)

143/65
TS3000 Product Description: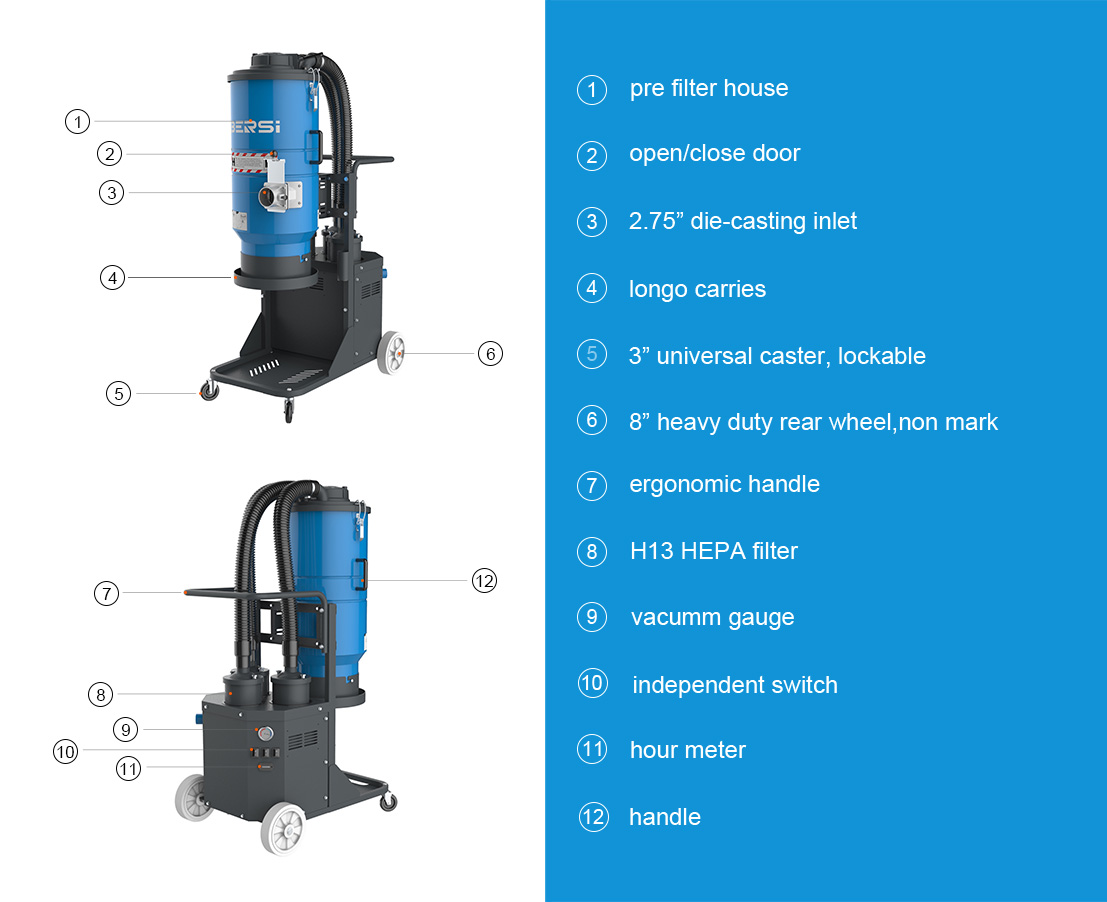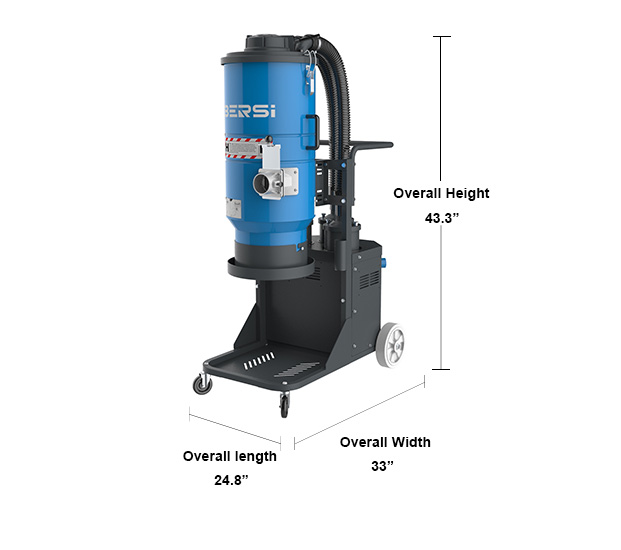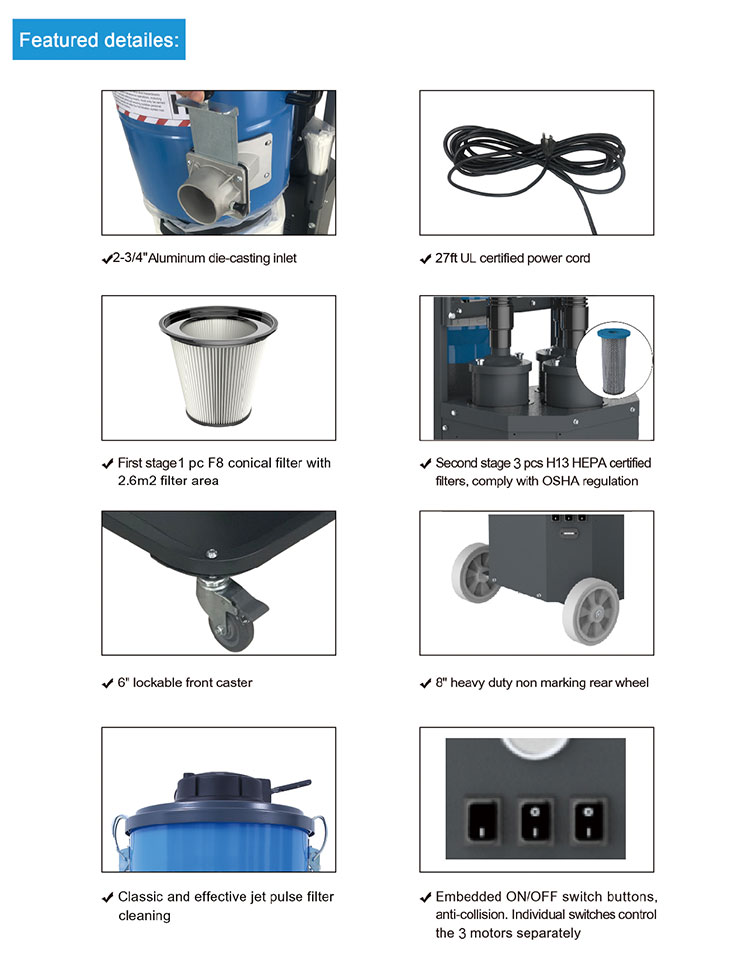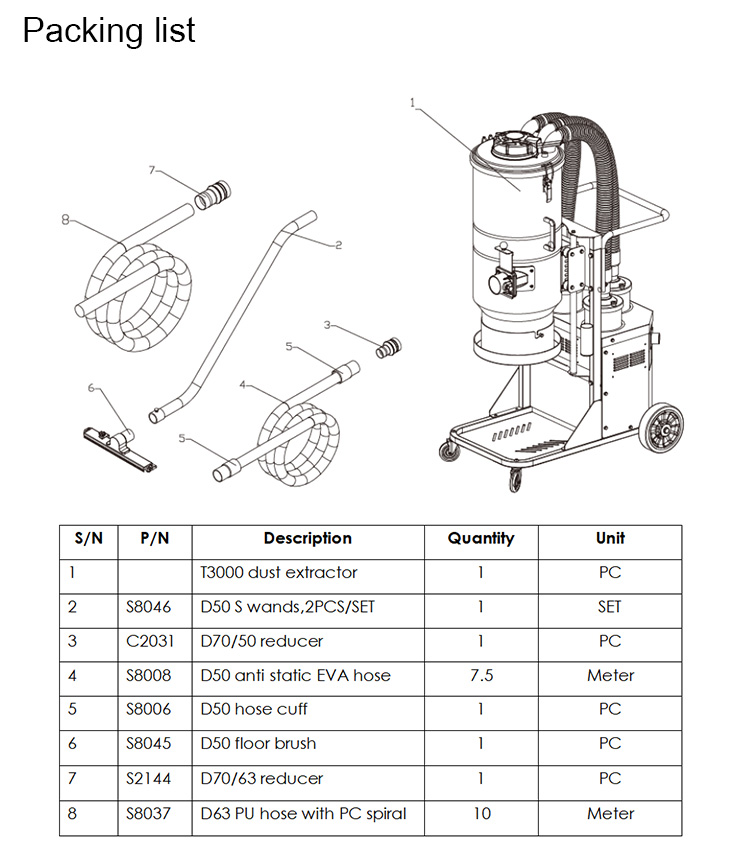 ---
Next:
D50 or 2" S Wand
---