T5 dust extractor integrated with separator
Breve descripción:
2 barrels, integrated with separator for pre-filtering,
"TORAY" polyester PTFE coated HEPA filter.Applies
to continuous working condition, small size and large
amount dust. Specially applies to the floor grinding
and polishing industry.
Detalle del producto
Solicitud
Principales características:
✔  Tres motores Ametek, para controlar el encendido / apagado de forma independiente.
✔  sistema de bolsas plegables continua desplegable, fácil y rápido de carga / descarga.
✔  2 stage filtering, pre-filter is cyclone separator, Filtering more than 98% dust , make fewer dust to enter in vacuum cleaner, prolong the vacuums working time , to protect the filters in vacuum and extend the life time.
✔  Imported polyester fiber PTFE coated HEPA filter, low pressure loss, high filter efficiency .
modelos y especificaciones de la serie T5
Modelo

T502

T502-110V

voltaje

240V 50 / 60Hz

110V50/60HZ

Power

kw

3.6

2.4

HP

4.8

3.2

Current

Amp

12

16

Water lift

mBar

200

200

inch"

90

72

Airflow(max)

cfm

354

285

m³

600

485

Dimension

inch(mm)

25.7″x40.5″x57.5″/650X1030X1460

Weight

lbs/kg

182/80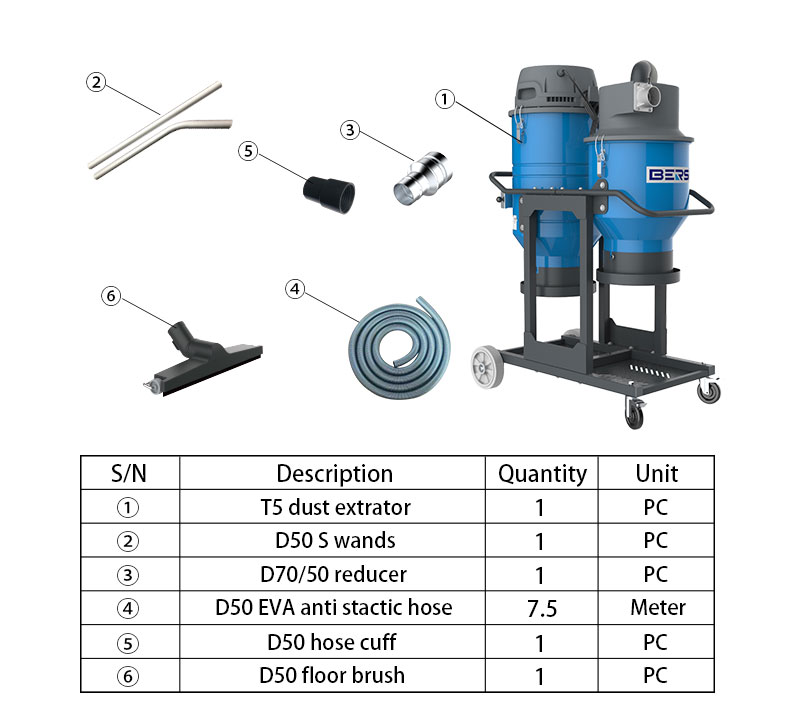 ---
: Anterior
A9 three phase industrial vacuum
Siguiente:
X separador de ciclón serie
---