A9 three phase industrial vacuum
Short Description:
A9 series industrial vacuum cleaners are designed for heavy duty use in general. The maintenance free turbine motor suitable for 24/7 continuous work. They are ideal for integration into process machines, for use in fixed installations etc. A9 provide its customer with three filter cleanings: manual filter shaker, automatic motor driven, and jet pulse filter cleaning.
Product Detail
Application
Main features:
Equipped with high vacuum turbine motor, powered from 3.0kw-7.5kw

100L big capacity detachable tank

All the Electronic components are Schneider.

Industrial vacuum to safely collect heavy media such as sand, chips, and large quantities of dust and dirt.
A9 series models and specifications:
Model

        

A931

A941

A951

A971

A932

A942

A952

A972

A933

A943

A953

A973

Voltage

 380V 50HZ

Power

KW

3.0

4.0

5.5

7.5

3.0

4.0

5.5

7.5

3.0

4.0

5.5

7.5

 HP

4

5.3

7.3

10

4

5.3

7.3

10

4

5.3

7.3

10

Vacuum

mBar

260

260

300

320

260

260

300

320

260

260

300

320

airflow(max)

cfm

187

247

312

312

187

247

312

312

187

247

312

312

m³

318

420

530

530

318

420

530

530

318

420

530

530

Dimension

inch/(mm)

24″x42.5″x57.8″/610X1080X1470

Weight

kg

123

143

166

170

126

146

169

173

129

149

175

179

lbs

280

325

377

386

286

332

384

393

293

339

398

407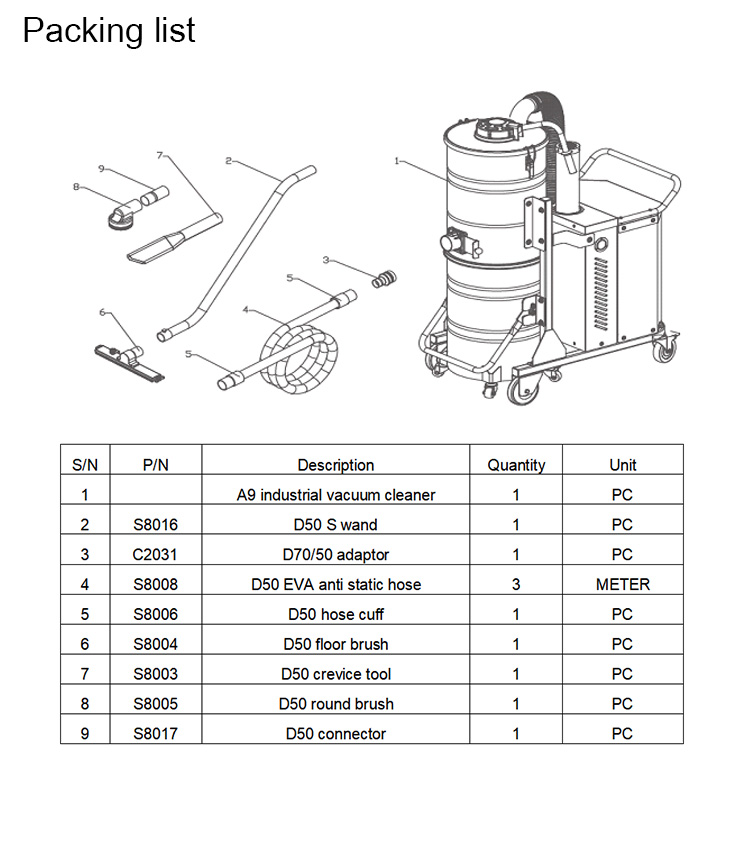 ---
Previous:
---