S3 Single phase wet &dry vacuum
Short Description:
S3 series industrial vacuum cleaners are mainly used for non-continuous cleaning of
manufacturing areas or for overhead cleaning. Featured as compact and flexible,
they are easy to move. There are no impossible applications for the S3, from the
laboratory , workshop, mechanical engineering to the concrete industry.
You can choose this model for dry material only or for both wet and dry applications.
Main features:
✔ Three Ametek motors, for controlling the on/off independently.
✔ Detachable barrel, makes the dust dump work so easy.
✔ Large filter surface with integrated filter cleaning system 
✔ Multi purposes flexibility, suitable for wet, dry, dust applications.
models and specifications:
Model

S302

S302-110V

Voltage

240V  50/60HZ

110V 50/60HZ

Power

KW

3.6

2.4

HP

5.1

3.4

Current

Amp

14.4

18

Vacuum

mBar

240

200

inch"

100

82

Aifflow(max)

cfm

354

285

m³/h

600

485

Tank volume

L

60

Filter type

HEPA filter  "TORAY" polyester

Filter capacity(H11)

0.3um  >99.5%

Filter cleaning

Jet pulse filter cleaning

Dimension

inch/(mm)

24″X26.4″X52.2″/610X670X1325

Weight

lbs/(kg)

125lbs/55kg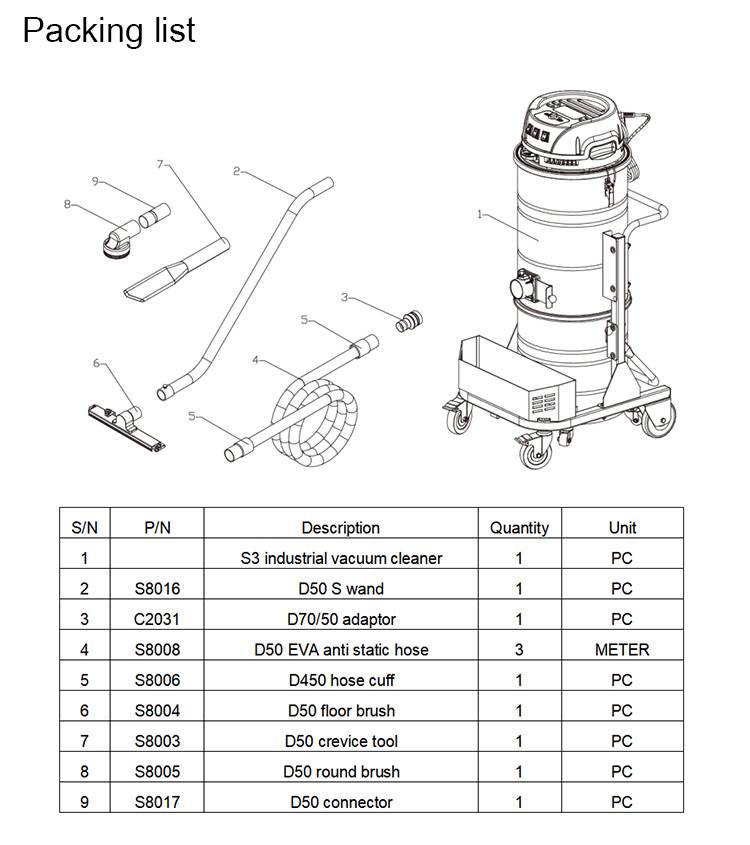 ---
Previous:
D3 Wet and dry vacuum for slurry
---